Thank you for visiting
RIWelding.com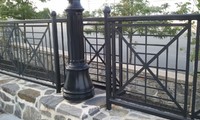 Our work on Chapel View Fence Panels at Sockanosset Crossroads
Established over 45 years ago, the R.I. Welding & Fabricating Company has been serving New England industries with a wide range of both semi and completely fabricated metals. We are well experienced in the fabrication of stainless and aluminum as well as mild steel. We also fabricate & install structural steel & miscellaneous metals including metal pan stairs, and miscellaneous and ornamental iron railings.
We have approximately 16,000 sq. ft. of shop space fully equipped with bridge cranes and monorail systems and approximately 30,000 sq. ft. of enclosed yard. At present, our work force consists of 15 employees. Our own trucks provide delivery service and our portable equipment and crane are available to assist you at your plant or job site.
We also have a CNC cutting table equipped with plasma & oxy. torches. We can automatically cut your carbon, stainless or aluminum parts. Using our state of the art software, we can create parts per your drawings or import your CAD files in either CDL, DXF, IGES, NC, or HPGL formats.
We would appreciate the opportunity to quote any of your requirements and we would welcome you to visit our facility.
Very truly yours,
R.I. Welding & Fabricating Co.